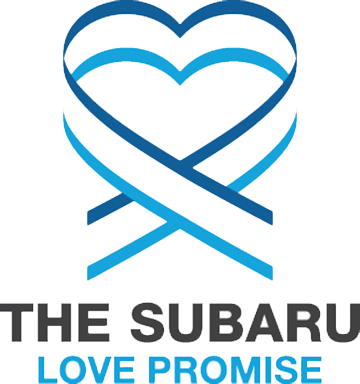 What is the Subaru Love Promise?
Subaru and our retailers believe in making the world a better place and the Subaru Love Promise is our vision of respecting all people. This is our commitment to show love and respect to our customers and to work to make a positive impact in the world.
How is Fox Subaru Grand Rapids dedicated locally to the Love Promise?
Our Love Promise can be seen in various partnerships with local charities and non-profits. We're grateful for the opportunity, not only to be a part of our community, but to serve it as well.
Love Promise Stories from Fox Subaru Grand Rapids
Subaru and Fox Subaru Grand Rapids believe in making a positive impact on the communities in which we live and work. We uphold that belief through our Love Promise Community Commitment. Every month, we select inspiring stories from customers and partners from around our area who strive to support our collective commitment and feature them here
Michigan Veterans Cemetery Wreath Donations - Brenda H
Wreaths Across America - REMEMBER the Fallen. . . HONOR those who Serve. . . TEACH our children the value of Freedom. Wreaths Across America is an organization which remembers and honors our veterans through the laying of remembrance wreaths on the graves of our country's fallen heroes and the act of saying the name of each and every veteran aloud. Members of Fox Subaru donned their festive holiday sweaters to raise awareness and donations to aid in the effort to make sure each of the 5,400 Veteran graves at the Michigan's Veterans Cemetery has a wreath for the holidays.
---
Subaru Loves Pets–Humane Society of West Michigan - Megan E
Rockstar and Hydrangea came to Humane Society of West Michigan from a large-scale cat rescue operation that we were able to help with. Hydrangea is a sweet mom who cared for all of her kittens but especially little Rockstar. Unfortunately, due to a severe infection that she had before she could receive treatment, Rockstar lost her vision and depended greatly on her mother for comfort and safety. Because of their special relationship, HSWM made sure that this bonded pair went to their forever home together and that they found the perfect family that would give them the time and love they deserved to settle in and come out of their shells!
---
Thank you for your generosity! - Alpha M
To our friends at Fox Subaru - We are blessed to have so much to be thankful for this past year and this season of extraordinary need. One of those biggest blessings – YOU! On behalf of our guests at Mel Trotter, we are beyond grateful for your donation and your faithful financial support. Your generosity not only continues to provide safety and shelter to those without, but will also impact lives forever. Thank you so much for your generous donation of Subaru blankets. We are sincerely grateful for you!!
---
Supporting AQ students through golf tournament - Kara V
A HUGE thank you for Fox Subaru's sponsorship of the Hole-in-One car at the Aquinas College 13th Annual Peter M. Wege ProAm Golf Tournament. Even though there were no hole-in-one's, we had so much fun being back out on the course and enjoying the sunny, warm Michigan weather all in the name of raising funds for Aquinas College students. It turned out to be a wonderful success, with over $80,000 raised! These funds will directly impact our students through scholarships. We could not have done it without your support and participation. Thank you for your support of Aquinas College and our students!
---
Subaru's support helps kids receive weekend meals - Susie D
Cindy, the Hand 2 Hand program director at Christ Memorial Church, is glad to finally have more hands filling bags with meals for kids in need. Over the last few months, Cindy packed bags with applesauce, soup and canned goods for 500+ Holland-area kids – often with just her daughter's help. Now, volunteers have safely returned to lighten the load. "Food is my love language. If anyone is hurting, I say, 'I'll bring you food,'" Cindy said. Cindy knew she couldn't cook for kids in need, but 10 years ago when she learned about Hand 2 Hand – a nonprofit that provides kids with weekend meals through their network of 100+ churches – she decided to start her own chapter at Christ Memorial. After bags are packed, Christ Memorial Hand 2 Hand delivers them to the schools they serve. School staff then discreetly place the bags in kids' lockers. Prior to receiving bags, families are invited to opt-in or out of the program by filling out a form. During the pandemic, schools instead delivered the pre-packed bags to students' homes. At a high school Hand 2 Hand works with, the program followed a client-choice model prior to the pandemic. Cindy and volunteers would set up and run a mini pantry where kids "shopped" for the food they needed most. Teens Cindy regularly spoke with would share how much the pantry meant to them and their families. One boy in particular always made it a point to thank Cindy and share how, without the food, he wouldn't know where his next meal was coming from. "When we first shut down, I was worried he didn't have food," Cindy said. "I got in contact with the counselor and the family and brought them a box." Almost every item placed in Christ Memorial's Hand 2 Hand bags and in the mini pantry is sourced through Feeding America West Michigan. The food bank works with many hunger-relief programs that serve children across 40 of Michigan's 83 counties, acting as a "hub" from which hunger-relief efforts flow. Agencies like Christ Memorial Hand 2 Hand pick up the food they need from the food bank's warehouse – instead of having to manage and store large donations or pay high prices at supermarkets. Sometimes, to fill the gaps present in large-scale food donations, the food bank must purchase food. Supporters like Subaru are generously helping cover these costs. Jerry, our purchased product and commodities analyst, keeps an eye out for low-cost food that will keep kids happy and healthy to fill any gaps on the food bank's shelves. He then ensures backpack agencies such as Christ Memorial Hand 2 Hand pick up the food as soon as possible. "Weekend programs are vital, just due to the fact that kids get a meal every day, Monday through Friday – so what will they eat the next two days?" he said. For Deb, a long-term volunteer, her service is all about the kids. "I just want to get food to kids," she said. "It's not their fault that they're hungry. I just want to help, and this is the way to do it." The efforts of neighbors like Cindy and Deb, who do all they can to put food on kids' plates, are what pushes the food bank's mission forward. Together, we truly believe we can end hunger in our community.
---
A Partnership Fueled by Adventure! - Scott T
In 2009 a new style of bike riding was starting to take hold across Michigan and the Mid West…gravel road riding! It was born out of two desires; get away from traffic which pushed cyclists away from city streets and out into the rural less traveled dirt roads and the will to explore new areas and turn a ride into an adventure. Out of these types of rides spawned The Barry Roubaix Killer Gravel Road Race. In the race's inaugural year in 2009, 268 racers toed the start line at Yankee Springs State Game Area and rolled through the gravel, seasonal, and back country roads of Barry County. That very first year a partnership was forged between Fox Subaru and the event, as both had a shared vision of taking people away from their daily rut and to explore places that are only limited by your imagination. Fast forward eleven years and that partnership with Fox Subaru has continued every year and that small little gravel road race turned into the largest gravel road race in the world! For 2020, The Barry Roubaix will have nearly 4,000 gravel racers from around the world! The start, finish and after-party all take place in Hastings, MI. As you can imagine, much has changed as the race and gravel cycling has evolved over the years, but one thing has remained the same, the partnership that "shares the love" of adventure. In 2015 The Barry Roubaix and Fox Subaru expanded their partnership and teamed up on the Founders Fall Fondo benefit ride. Our shared love for animals and bikes spawned an annual Fall ride benefiting the Barry County Animal Shelter which has raised over $10,000 for the animals of Barry County. The Barry Roubaix can't thank Fox Subaru enough for a partnership and friendship that continues to fuel adventures and give back to the local communities in West Michigan.
---
Supporting BISSELL Pet Foundation's Work - Bri O
Fox Subaru helped sponsor the 2019 BISSELL Blocktail Party, BISSELL Pet Foundation's annual fundraiser that raises lifesaving dollars for homeless pets. Shelters and rescues across the country are overcrowded and BPF aims to support pets in need of a forever home. With the funds raised at Blocktail, BPF was able to continue awarding grants its partner network of 4,700 organizations. In addition, funding from Blocktail enables BPF to continue to host Empty the Shelters adoption events, a program that has found homes for over 27,000 pets thus far. Thank you for helping end pet homelessness, one pet at a time!
---
Fox Subaru brings hope to cancer patients - Jamie R
On Thursday, July 11, 2018,the West Michigan Chapter of The Leukemia & Lymphoma Society and Fox Subaru had the pleasure of delivering 80 blankets to Spectrum's Lemmen-Holton Cancer Pavilion as part of the Subaru Loves To Care program. These comforting gifts were accompanied by personalized messages of hope written by the customers and staff of Fox Subaru.This incredible act of generosity was warmly received by the Lemmen-Holton Cancer Pavilion staff who were thrilled to distribute these comforting gifts to their patients and to Suzanne who is currently fighting cancer at Spectrum. Many thanks to everyone at Fox Subaru and Spectrum's Lemmen-Holt Cancer Pavilion not only for a memorable day, but for supporting LLS' mission to cure blood cancers and improve the quality of life of patients and their families.
---
Bark In The Dark with HSWM - Alexis S
Thank you for choosing to support the Humane Society of West Michigan's Bark In The Dark event! We truly appreciate the continued support from Fox Subaru. The Humane Society of West Michigan was able to adopt out over 4,000 animals last year, all of that made possible by generous donors like you! Thank you for the sponsorship, partnership and support! -Alexis S.
---
Fox Subaru's Loves Promise Program - Max D
Thanks to the Subaru Cares campaign, Max, a cancer patient who is receiving treatment at Spectrum Health was given a beautiful blanket from LLS and Fox Subaru of Grand Rapids. As we know and found out today, cancer touches everyone, including Subaru employees pictured here. One of them is a 2 year survivor of Myeloma and the other one lost her father and his grandfather to multiple myeloma just last fall. Along with the blankets, the local Fox Subaru employees and customers wrote notes of encouragement left in the library to brighten the day of the patients This heartfelt gift to cancer patients reminds them that we care, we work hard every day to find cures and raise funds to help offset the cost of cancer. Without the help of our communities getting involved, we could not support the lifesaving research that will put an end to these terrible diseases. Max was touched by the generous gift from LLS and Subaru, and we were shown what a true fighter Max and other cancer patients are every day in their battle to win.
---