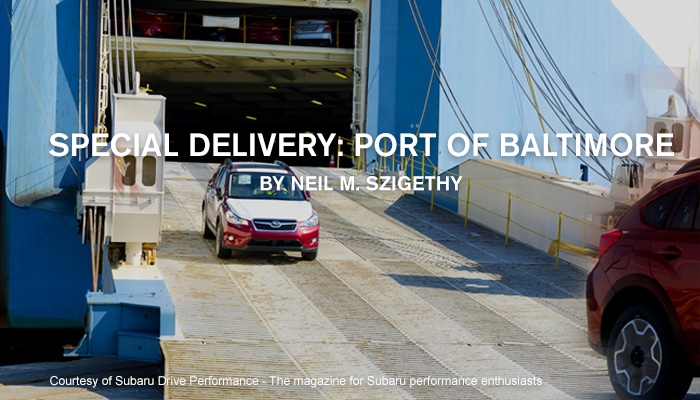 We take you behind the scenes at the Port of Baltimore for a revealing look at how Subaru ensures that your vehicle arrives in pristine condition and is customized to your taste.
First, you have to adjust to the scale of things. Driving up to the Port of Baltimore, the Triton Ace cargo ship seems big, but not that big. Only when you are alongside the ship's massive hull can you appreciate its 655-foot overall length. Yes, that's two football fields and then some. This type of vessel is known as a "roll-on/roll-off" ship or RORO for short. At the stern of the vessel, a long, articulated ramp, looking like a medieval device for scaling castle walls, has been deployed to allow easy roll-on and roll-off of the cars. Baltimore is the highest-volume RORO port in the U.S., handling nearly 750,000 vehicles annually.
With the captain's permission, and after donning a hard hat and white gloves, I enter the bowels of this leviathan. Imagine a large, floating parking garage and you'll get an idea of what it's like inside.
| | |
| --- | --- |
| | |
Flexible Cargo System

Commissioned in 2009, the Triton Ace has 13 movable decks, which can be raised or lowered depending on the cargo. This flexible cargo system means the ship can accommodate everything from compact cars to large military vehicles – just about anything on wheels.

By the time we caught up with the Triton Ace, it had made the voyage from Japan, through the Panama Canal, and then up the coast to Brunswick, Georgia, and finally to the Port of Baltimore. From here it will make stops at Davisville, Rhode Island, and Boston before it heads back. With an average cruising speed of 11 to 15 knots (about 13 to 17 mph) it's a long, slow journey that takes an average of 31 days to complete.

Soon a parade of Subaru vehicles that includes BRZ, Forester, WRX, WRX STI, and Crosstrek begins driving down the ramp to the dock and on to the port processing center about a mile and a half away.
Tight Quarters
Directed to safe walkways by longshoremen, I climb narrow stairs up several decks until I see a small fleet of Subaru vehicles, parked amazingly close together. There's no way even a small child could squeeze between them. The cars are carefully tethered to the ship's decks to prevent movement, even in high seas.
A closer look reveals some of the details that help prevent damage on the long sea journey. White plastic wrap covers the hood as well as specific areas of the front doors. The door protection helps prevent small scratches in the clearcoat finish as workers reach into the handle recesses. All four wheels are fitted with clear coverings, looking like circular pieces of plastic wrap. Subaru Port Operations Manager Jonathan Smith explains that this keeps debris from lodging in the brake calipers during the long water crossing as well as helping to prevent corrosion on the disc-brake rotors. I notice that some other manufacturers' cars on board only fit this protection to the front wheels. It's nice to see that Subaru goes the extra mile to protect its vehicles.
| | |
| --- | --- |
| | |
The choreography of vehicles driving up and down ramps inside the ship and eventually out onto the dock is carefully directed at each "intersection." The WRX and WRX STI vehicles are positioned above the large excavators, so their deck is about a foot or so higher than the abutting deck. This requires a short metal ramp for the unloading process, and a very slow and deliberate descent by the longshoremen as they look to a spotter to direct them down the incline. A few inches left or right could result in serious damage.
Quality Processing
"Everything we do reflects the brand. We're the last line of defense for any issues before the customer sees his or her vehicle."
- Jonathan Smith, Subaru Port Operations Manager
From the ship, the Subaru vehicles are driven to the dedicated port processing center, operated under contract by WWL Vehicle Services Americas Inc. Here again, attention to detail separates Subaru from the rest.
During blustery weather, the vehicles are parked into the wind as opposed to perpendicular to it. This can help prevent accidental door dings when workers get in and out of the vehicles.
Inside, the large processing center is a hub of activity. While many accessories can be fitted by Subaru retailers, it's generally more efficient to install them here with a dedicated workforce and tightly controlled quality processes. Different work stations are set up for "drive-through" or "heavy" installs. A heavy install, such as fitting a cat-back exhaust to a WRX, takes 20 minutes or more and might require a lift, including a buddy system to double-check results. Everything from cargo nets to subwoofers to spoilers to auto-dimming rearview mirrors is installed on various Subaru models. And each vehicle gets its Predelivery Inspection (PDI) here as well. Between 250 and 300 vehicles per day are processed at this facility by 60 employees working in two shifts.
| | |
| --- | --- |
| | |
When all the installations and PDIs are complete, work orders and VINs are scanned, the retailer invoice is generated, and the Monroney sticker is printed. A vehicle cannot be legally shipped from the center without that final window sticker.
All in a Day's Work
With all the quality processes, inspections, and even periodic teardowns performed on these Subaru vehicles, you might think that Smith's job as port operations manager would be pretty easy. When confronted with that thought, he laughs. "You never know what's going to come up the next day," he says. "Different volume, changing weather, shop challenges – it keeps you on your toes."